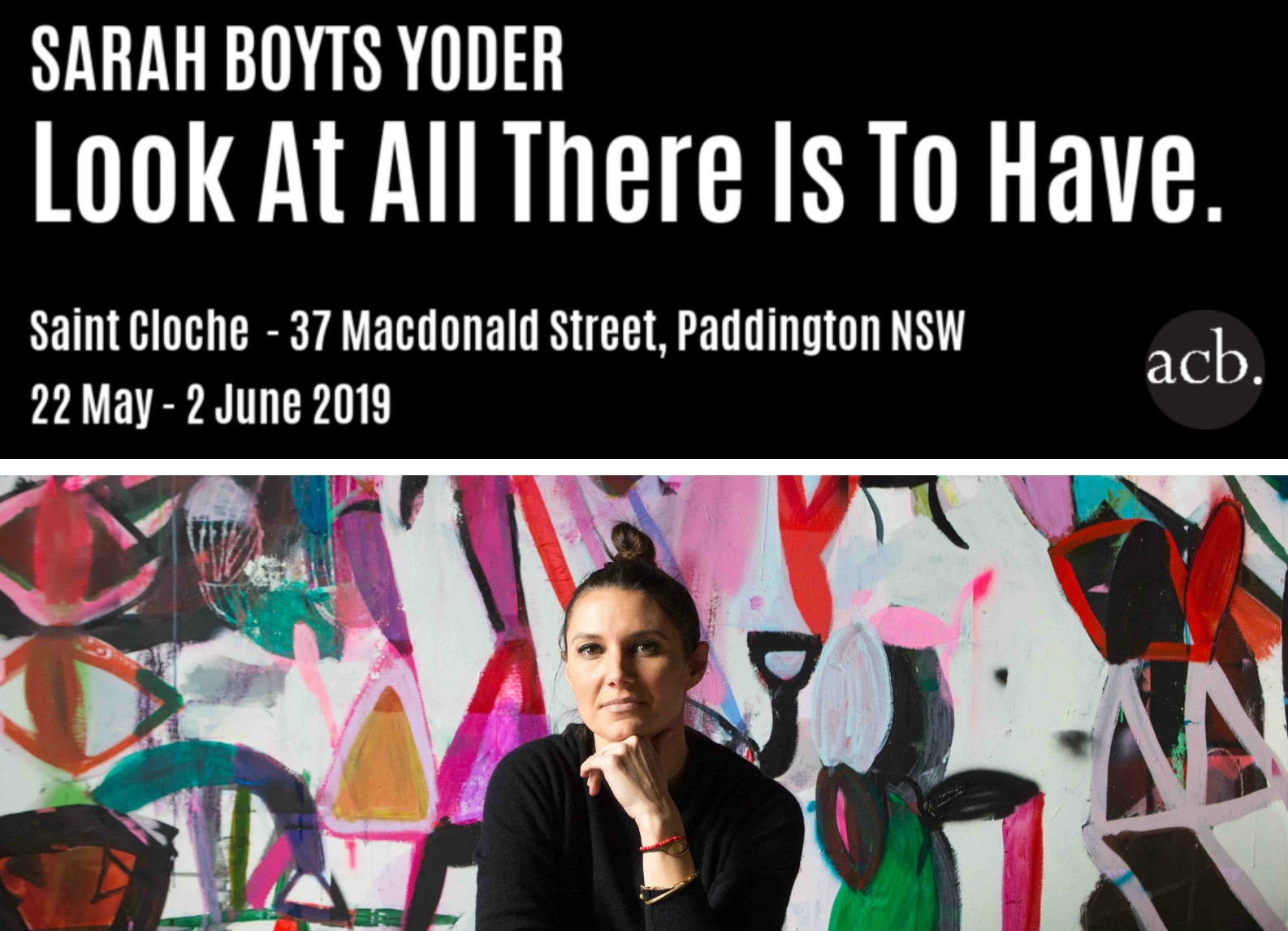 Sarah Boyts Yoder is a mixed media painter based in Charlottesville, VA. She received an MFA in painting from James Madison University in 2006. Boyts Yoder's work has been featured in numerous publications and exhibitions throughout the United States including the Virginia Museum of Contemporary Art. Her work has been included in Fresh Paint Magazine (#10), Studio Visit Magazine (#13) and FOA (Friend of the Artist, Issue #5). In 2014 she was awarded a professional fellowship in painting from the Virginia Museum of Fine Arts. Sarah has twice been a fellow at the Virginia Center for the Creative Arts (2013, 2014). She was awarded a residency at 100W Corsicana in June of 2017 and 2018. Sarah was also a finalist for the Bethesda Painting Awards (2018).
Boyts Yoder uses cartoonish iconography, occasional text, and collage materials simultaneously, creating a complex and textured painterly surface. Situated squarely in the realm of painterly abstraction, her works demonstrate the creative process as both content and journey. Listening becomes as important as doing, viewer is invited in as interpreter, and the resulting images are playfully open-ended.
A multitude of associations and experiences springs from these images. A trove of possible meanings explores the imagination's capabilities, questions what painting can be, dreams of the unseen, and illuminates the potential for human connection that exists in these questions.
These playful abstract works are based my painting practice that relies on repetition and improvisation within structure to unlock the grace and humour in the everyday.
Possessed with a wide and opportunistic gaze, I adopt simple forms and materials often hiding in plain sight. Combining principles of formal abstraction and an obsession with colour, I transfigure them into a lexicon of cartoonish and talismanic iconography.
'Look At All There Is To Have' references my belief that all surfaces, all forms, are available to us as bearers of grace and points of focus in a world that too often insists on inevitability and separateness.
Please click on images below to enlarge. 
All works on canvas are box framed in natural timber. 
Works on paper and collage are mounted, and framed under glass with white frame.
Sarah Boyts Yoder Enquiry Form
LOOK AT ALL THERE IS TO HAVE | Sarah Boyts Yoder & Sophie Nolan
Curated & presented by Amber Creswell Bell
@ Saint Cloche
37 Macdonald Street, Paddington NSW
Exhibition runs: 22 May – 2 June
Opening reception: Wednesday 22 May
Gallery hours: Wed to Sun, 10 – 5
Contact: amber@ambercreswell.com/ 0414 747 761