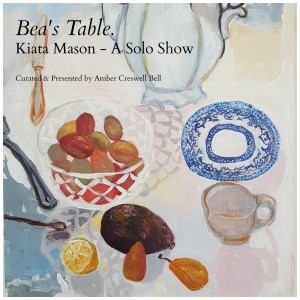 Saturday 1st April to Thursday 13th April, 2017
Saint Cloche – 37 MacDonald Street, Paddington.
Sydney-based artist, Kiata Mason, is a National Art School graduate – holding a Bachelor of Fine Arts (Painting); Bachelor of Fine Arts (Drawing) with Honours; and a Master of Fine Arts (Drawing).
For over 13 years, Kiata's sensitive works have regularly placed in a multitude of awards – such as the Dobell Drawing Prize, Paddington Art Prize, Mosman Art Prize, Blake Prize, Doug Moran Portrait Prize, and many more. Most recently Kiata is a Finalist in the 2017 Muswellbrook Art Prize.
This current series of work revolves around the collections of objects in the artist's grandmother's home at Lake Cathie, NSW.
The work speaks of the emotional pull that can be experienced in a room full of the remnants of the long and shared life of a family. Dispersed, the objects could be seen as bric-a-brac, but united as collections they tell a story of a grandmother's life: her style, and her love of eclectic things.
"My grandmother's house was always one of beauty, interest, art, and collections. It's set in a seaside town, where summers were spent on the beach, or amongst her wild garden surrounded by the flowers that grew all around. A place we came together as a family. The house is full of shells, paintings, sculptures, alongside cups of tea, lots of food and glasses of wine in the evening".
Pre-sales & interstate buyers welcome. Contact Amber amber@ambercreswell.com or +61 414 747 761
---
CATALOGUE OF WORKS
Click on images below to enlarge.  All works are framed in timber.